Everyone who loves to explore should put Vietnam in the first place in their travel program. Vietnam is really an authentic country, with impressive landscapes, colorful and dynamic cities, warm and gentle people, and a good blend of old and new.
1. Vietnam is relatively unspoiled by tourism
After hundreds of years of struggle, under the invasion of foreign states and lived in poverty, Vietnam, today opened its doors to foreigners, tourists and investors, welcoming them with a glamorous face and hospitality.
Vietnam is a new country in terms of tourism. Unlike Thailand, Malaysia, Singapore, you will see smaller number of tourists walking around the streets. Vietnam is not as spoiled as the countries with more tourists. Local people are genuinely interested in tourists. They want to chat to you with their little English.
2. Vietnam is safe
Vietnam is a pretty safe country to visit even for women traveling alone. Actually, I can say from my own perspective that I have not felt unsafe anywhere in South Asia. Usually the countries with majority Buddhist population are safe.
Most of the Vietnamese were farmers and most of them were born in the villages. The communist government seems to have done its utmost to make the premise a safe place. Considering the recent history of the country, there is a warm attitude to many tourists, especially Americans. They will wrap up the pain of the past, look into the future.
3. Vietnam is relatively cheap to travel
Vietnam, offering super luxurious travel comfort, offers the possibility to travel with a very low budget. It is possible to eat for 1 Dollar at a stall on the street, and even if you go to super luxurious restaurants, the prices are still reasonable.
It is possible to travel in Vietnam, a favorite country for backpack travelers, with a daily budget of $ 15. Almost everywhere in the country there are convenient hotels, guest houses and hostels. For example, the 4-star
Sunway Hotel Hanoi
in
Hanoi
costs $ 49 per night for 2 people.
4. Ha Long Bay
Imagine over 2,000 limestone cliffs rising from the emerald waters of Tonkin Gulf to the sky! This is
Halong Bay
, Vietnam's most popular tourist destination in the world. According to the, Vietnam remains in a difficult situation with the Chinese, and the gods send a dragon for help. This dragon spouts jade and jewels from its mouth and forms the limestone rocks that we see today, and through these obstacles the Chinese can not enter.
Cruise ship experience among these interesting limestone cliffs is a unique experience. Halong Bay is beautiful and charming and this place is on the UNESCO World Heritage List. It is located 4 hours from Hanoi, the beautiful capital city in the north of the country.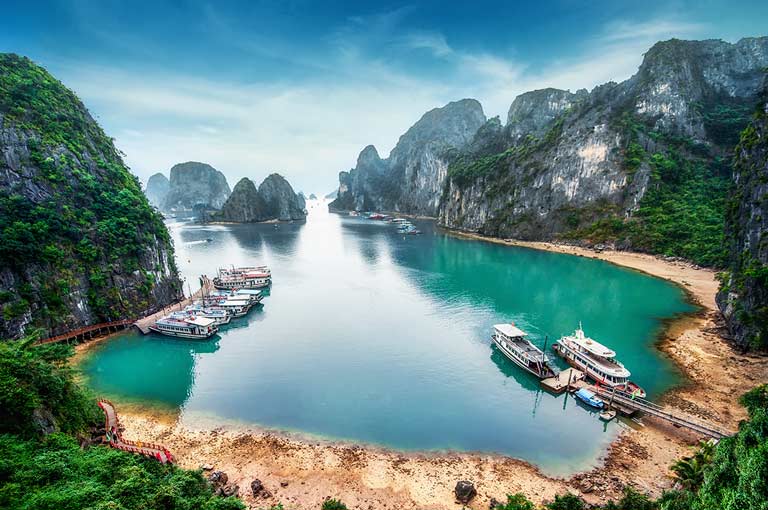 Ha Long Bay
5. Unique Vietnam Culture
Vietnam has one of the oldest cultural heritage in South East Asia. History of Vietnam goes back to the Bronze Age, and the area was more than 1,000 years in Chinese domination. Therefore, the influence of Chinese culture on the culture of the country is great.
Following the independence from China, Vietnam was under the influence of the Khmer empire for a while. In the French colonial period, European culture interacted. In Vietnam, where the Latin alphabet is used, the values ​​of old, atelier, social and family values, handicrafts and labor are of great importance. Also in this exotic culture of Far East, where we are a stranger, dragons and turtles have an important place. In addition, the bamboo plant and lotus flower are considered sacred.
6. Vietnamese people are warm and friendly
Like many neighboring countries in Southeast Asia, Vietnamese people are friendly, gentle and friendly. When you look at your eyes, a smile appears in their faces, they are very elegant and sweet. I have not encountered anyone who is trying to attract people and to sell something in shopping places and markets. The same is true when you walk around the historic district of Hanoi's tradesmen. Everyone is busy engaging in performing arts and taking care of incoming customers.
When visiting historical sites and temples, everyone respects and respects the rules without loud noise. You can easily start chatting with whatever you want in almost everywhere. The farmers living around the Mekong Delta are very impressive with their productivity and hard work. It's also amazing to play crafts and instruments.
7. Mekong
The Mekong River is a river that is the lifeblood of Southeast Asia with a length of about 4350 km. The adventure of a dive starts from Tibet in the eastern Himalayan Mountains at an altitude of 5,224 meters and flows into the South China Sea beyond 6 Southeast Asian countries like Yunnan (China), Myanmar, Laos, Thailand, Cambodia and Vietnam.
The Mekong Delta, which the Mekong River meets with the sea on Vietnam soil, makes this geographical region of more than 7 million people unique. With white sandy beaches, tropical forests, small villages and towns scattered among the waterfalls, this is a very interesting and rich geography.
8.Vietnamese Coffee
If you're a coffee lover like me, I'm sure you'll love Vietnam's coffee culture. Vietnam is the second largest coffee producer in the world, though not very well known. So it has an important place in the culture of the country. Although I usually drink milk and sugar, I prefer the simple one (ca phe den).
It is possible to have delicious coffee and sit in a tree shade or park even on street benches. Try the ice-cold cup. Take care of the addresses Café Mai (79 Le Van Huu, Hanoi) or Highland Coffee (26 Le Loi, Ho Chi Minh City).
9. Extraordinary caves
I like caves, and in every country I go, I like to visit immediately when I hear that you are a cave. Vietnam is one of the largest and most impressive caves in the world. Think of a geography, you are discovering the world's greatest cave more recently. This is Vietnam. Sơn Đong Cave was discovered in 2009 yet.
After Phong Nha Cave, 44.5 km long, which is the other famous cave of the country, Sơn Đong Cave was located in the world press. The width of some rooms of Sơn Đòng Cave is 5 km. Imagine how many airplanes you can imagine! Those who go to Ha Long Bay know the beauty of Surprise Cave cave.
10. Vietnamese cuisine and tropical fruits
Whether you like to eat fruit or not, Everybody gets to know the tropical fruits that make a different sensation other than a taste that is known before. This is my testimony. Mangosten, dragon fruit, rambutan are my favorites.
Today it is possible to see Vietnamese restaurants in many cities of the world. The development of the culinary culture and the diversity of delicacies. Seafood, chicken and meat have an important place in the Vietnamese cuisine where fresh vegetables are often used. If you love Hele seafood, South East Asia is already in heaven itself! Although we are very conservative in taste, coming to taste without local tastes makes the trip incomplete. At least enjoy a Pho soup.