This summer, luxury cruising experience will come to Singapore as a 137,276-gross registered ton liner in school holiday period as
MS Voyager of the Seas
, the Voyager-class cruise ship operated by
Royal Caribbean International
, will be serving luxury cruises from Singapore by this May 2012 thanks to the new
International Cruise Terminal in Singapore
. Voyager of the Seas will be the largest cruise ship ever berthed in Singapore. She is a real giant; it can handle up to 3114 guests, and, along with its sisters in the Voyager class (Adventure of the Seas, Explorer of the Seas, Mariner of the Seas and Navigator of the Seas), is one of the largest passenger ships in the world; currently, only the Cunard Line Queen Mary 2, Norwegian Epic and the Royal Caribbean International Freedom class and Oasis class are larger.[1]
Voyager of The Seas will offer short cruises (three to five nights to Penang, Kuala Lumpur and Phuket, as well as an 8-night cruise to Shanghai that features Ho Chi Minh, Xiamen and an overnight in Hong Kong) and longer 14- to 18-night cruises in the South Pacific to New Zealand and Australia from May to June which is Singapore's school holiday period.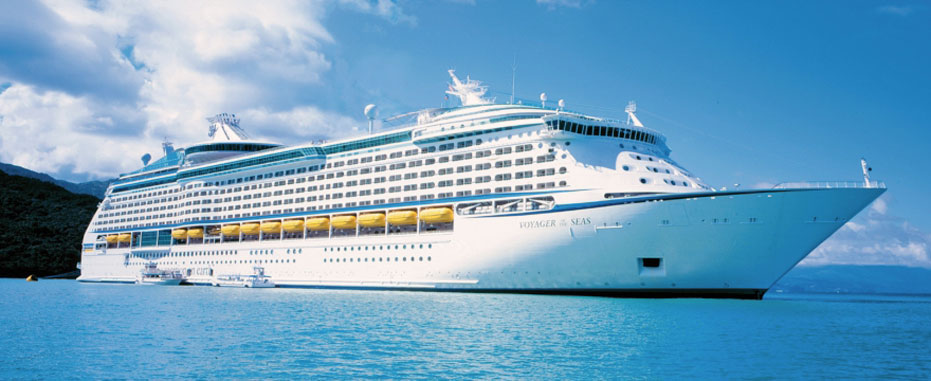 Voyager Of The Seas
The 137,276-gross registered ton Voyager of the Seas will be one of the largest and most innovative ships to ever homeport in Asia. Her arrival will give cruise enthusiasts here a chance to experience directly from Singapore her wide choice of onboard activities and entertainment, such as the ice-skating rink, a boulevard of shops and cafes located along the Royal Promenade and a full-sized sports court.
Other onboard innovations include the in-line skating track, water slide, rock-climbing wall, mini-golf course and golf simulator. In addition, there is a three-tier theatre, themed bars and lounges as well as a mezzanine split level nightclub.
There are numerous dining options onboard including the 3-tier dining room and specialty restaurants namely Portofino Italian restaurant and Johnny Rockets 50s' style diner. The choice of accommodation is also wide-ranging with over 40% more staterooms and five more categories than today's offerings in the region, ranging from luxurious Royal Suites to unique Promenade staterooms with views overlooking the Royal Promenade.
Source : Voyager of the Seas to Cruise from Singapore in 2012
[1] -
MS Voyager of the Seas