Fortunately, the news about a massive Bangkok explosion on Tuesday night are fake. But the fake news were perceived so real that at about 9 PM, Facebook activated its
safety check-in system
for this "reported" explosion.
According to Independent, the safety check system was accidentally activated by a local and minor incident which is picked up by Facebook as a major incident because it was talked about a lot :
But no such explosion actually happened and the fake alert seems to be the result of changes that the company has made to its Safety Check feature. It appears to have been activated by a minor incident, reported only in the local news, where a man took firecrackers to a government building in an apparent protest.
....
That seems to have become seen as a major incident because people on Facebook were discussing it. Earlier this year, Facebook announced that it would be using people's posts to help decide when the Safety Check would be activated – meaning that it didn't necessarily need to be turned on by staff at the social network.
Source : Facebook Safety Check scares Bangkok residents with false report of major explosion
In Twitter,
Bangkok Explosion
has been trending and now the thread is full of messages calling it a hoax.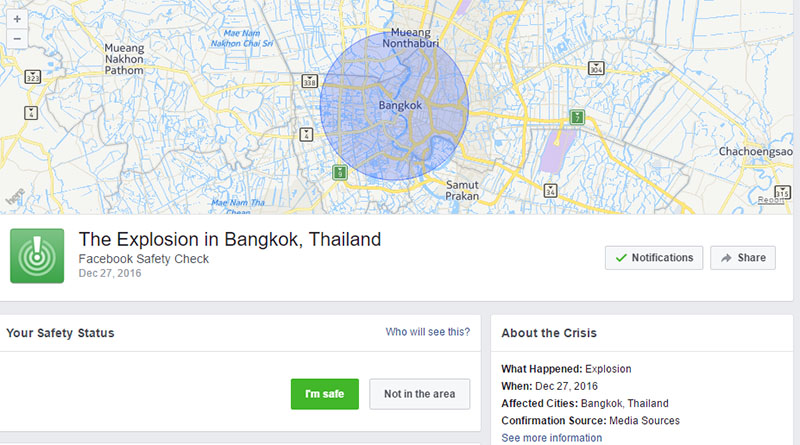 Fake Bangkok Explosion News prompt Facebook Safety Check
Facebook went further to say that the crisis was confirmed by media reports but the reports they are referring were themselves referring to a more than a year old article about
bombing of the Erawan Shrine in 2015
.
As of 10:15pm, the Facebook alert had been deactivated.