Samsung Galaxy S4 release date in Singapore
is 27 April 2013. Samsung's Galaxy S4 with LTE price will be S$998 without contract. Customers who pre-registered for the Samsung Galaxy S4 online with the three local mobile operators (M1, SingTel and StarHub) will be entitled to a limited edition accessory pack comprising a car charger, desktop dock and HDTV adapter, while stocks last. Registration for Samsung Galaxy S4 began on 17 April.
Samsung Galaxy S4
or simply Galaxy S4 was finally revealed today in New York with a Broadway show kind of event. Samsung has gone the extra miles in both hardware and software of the phone.
Samsung Galaxy S4
may look pretty much like the Galaxy S3 but at 7.9mm it is slimmer and comes with a larger 5-inch screen equipped with a 1080p Super AMOLED panel. Galaxy S4 has a 13-megapixel camera, an improvement on Galaxy S3's 8-megapixel camera.
Samsung Galaxy S4
is a slim phone with a big screen and a fast chip. It runs 4G LTE through 327 mobile operators in 155 countries. There's a dual camera that allows the shooter to appear in a small window in the video he/she is shooting. The phone tracks your eye movements for pausing films you stop watching midway. It scrolls by tilting. The phone reads texts to you.
Four new features stands out : S Voice Drive, translation, smart scroll and group play.
How much Samsung Galaxy S4 cost in Singapore?
Many people will go for contract and Samsung Galaxy S4 plans are not available yet but retail price will be $998 without contract. StarHub, SingTel and M1, 3 telcos in Singapore, have also announced their Samsung Galaxy S4 price plans as below.
SingTel Samsung Galaxy S4 Contract Price Plan
Galaxy S4 Price
Monthly subscription cost
Data bundle
Total Cost for 2 years contract
Flexi Lite
$578
$39.9
2 GB
$1,536
Flexi Value
$328
$59.9
3 GB
$1,766
Flexi Plus
$168
$99.9
4 GB
$2,566
Flexi Premium
$0
$205.0
12 GB
$4,920
StarHub Samsung Galaxy S4 Contract Price Plan
Galaxy S4 Price
Monthly subscription cost
Data bundle
Total Cost for 2 years contract
SmartSurf Lite
$599
$38.0
2 GB
$1,511
SmartSurf Value
$349
$58.0
4 GB
$1,741
SmartSurf Premium
$199
$98.0
6 GB
$2,551
SmartSurf Elite
$29
$205.0
12 GB
$4,949
M1 Samsung Galaxy S4 Contract Price Plan
Galaxy S4 Price
Monthly subscription cost
Data bundle
Total Cost for 2 years contract
ValueSurf+
$578
$39.0
2 GB
$1,514
LifeSurf+
$328
$59.0
3 GB
$1,744
ExtremeSurf+
$168
$98.0
5 GB
$2,520
MaxSurf+
$0
$198.0
12 GB
$4,752
Samsung has demonstrated the S Voice Drive, Galaxy S4's answer to Apple's Siri. Galaxy S4 users can have the phone read emails back, and even reply or forward messages. In another demo, the host answers a call by simply saying "Answer.
The Samsung Galaxy S4's cool translation feature allows you to type a question in English, for example, and the phone can speak it in Chinese. Or the phone can listen to Chinese and then type it out in English. The phone understands 9 languages.
Smart Scroll and Pause: Pause automatically pauses video when you turn away, and restarts when you look back at the screen. Users can tilt the screen up or down to scroll through text. There's also a separate feature allowing users to answer the phone by waving their hand over the screen.
Samsung Galaxy S4 also comes with a new feature called Group Play: It can turn any group of S4 phones into a group sound system. Each phone acts as a speaker. You touch the phones to each other and the sound spreads out. A big group of them creates surround sound.
According to CNet Asia, Samsung Galaxy S4 will be launched in Singapore with the
Qualcomm Snapdragon 600 processor
. Galaxy S4 outside of the US was expected to come with the new
Exynos 5 Octa Core mobile processor
.
While in Singapore we will only be able to purchase the GT-I9505 model with Snapdragon 600 quad-core processor with a clock speed of 1.9GHz, other countries in the region, such as Taiwan, Thailand, Indonesia, India are likely to get the Exynos 5 Octa model (the GT-I9500) :(
One commentator in CNET Asia article puts the blame on LTE support:
"I think the LTE is to get the blame that Singapore is not getting the international version as Exynos 5 do not support LTE at the moment and the LTE enabled Exynos 5 chip will be limited to Samsung homeland first."
Source :
Samsung Galaxy S4 to launch with Snapdragon 600 in Singapore
Samsung Galaxy S4 will be launched in United States, Europe and parts of Asia from April 2013. CEO of Samsung's operations in Southeast Asia, Oceania, and Taiwan, Gregory Lee, told CNET that the company plans to roll out the device globally "almost simultaneously.":
"We have, over the years, become very good at operations," Lee said. "In the past, we staggered [launches]. These days, we've become very good at rolling out new products around the world."
Samsung today launched the Galaxy S4, the company's new, high-end smartphone. The device has been highly anticipated around the world and is the most hyped device Samsung has seen. Asia is a key market for Samsung, particularly in Hong Kong and Singapore. In more emerging markets, like Thailand, Samsung's lower priced devices are more popular.
Source : Galaxy S4 to hit Asia at same time as rest of the world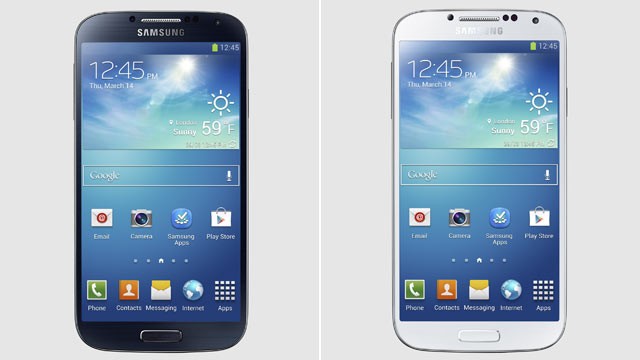 Samsung Galaxy S4 photo. It comes in two colors.
I am definitely not the only person in Singapore waiting for Samsung Galaxy S4, the much-anticipated successor of the Samsung Galaxy S3 in Singapore. As the news of March 14 2013 launch in New York went into circulation, Samsung Galaxy S4 topped the google trends Singapore most search keywords list.
Below are hardware and software specs of Samsung Galaxy S4 compared to Apple iPhone 5, HTC One and BlackBerry Z10.
<![if supportMisalignedColumns]> <![endif]>
Samsung Galaxy S4 Specifications comparison
Specs
Samsung Galaxy S4
Apple iPhone 5
HTC One
Blackberry Z10
Operating System
Android 4.2.2
iOS 6
Android 4.1
Blackberry 10
Dimensions
5.38 x 2.71 x 0.31 inch;
4.6 ounces
4.87 x 2.31 x 0.3 inch;
3.91 ounces
5.41 x 2.69 x 0.37 inch;
5.04 ounces
5.12 x 2.58 x 0.35 inch;
4.78 ounces
Display
5-inch full HD Super
AMOLED; 1,920x1,080
pixels, 441 ppi
4-inch IPS LCD;
1,136x640 pixels, 326 ppi
4.70-inch LCD;
1,920x1,080 pixels, 468 ppi
4.2-inch LCD;
1,280x768 pixels, 355 PPI
4G LTE
Yes
Yes
Yes
Yes
NFC
Yes
Rear camera and recording
13-megapixel, 1080p HD video
8-megapixel, 1080p DH video
4-megapizel (Ultrapixel), 1080p HD video
Front-facing camera
2-megapixel
1.2 megapixel
2.1-megapixel
2-megapixel
Processor
1.9GHz, quad-core
Snapdragon Fusion Pro;
or proprietary 1.6GHz octa-core Exynos 5 Octa
Preorietary A6
1.7 GHz, Quad-Core Snapdragon 600
1.5 GHz, dual-core Snapdragon S4 Plus
Capacity
16GB, 32GB, 64 GB
16GB, 32GB, 64 GB
32GB, 64 GB
16 GB
Expandable memory
Up to 64GB
No
No
Up to 32 GB
Battery
2,600mAh
Not
2,300mAh
1,800mAh
Price
T.B.A
$199.99
$299.99
$399.99
T.B.A
$199 on Verizon
Galaxy S4 has a feature named Dual Shot, which simultaneously utilizes both the front and rear cameras.
Yes, the question for Galaxy fans in Singaporeis when will the Samsung Galaxy S4 release date in Singapore be? There are some speculations on the net.
Here is one
:

Let me try to look back at past records and come up with a rough estimate on when this date is going to be. In 2011, the S2 was announced on February 13 and that was held during MWC 2011. It was only made available in Singapore on June 11. Simple maths calculation here. The lag time was 4 months. In 2012, the S3 was announced on May 8 and was made available in Singapore on May 29. (See also: Galaxy SIII Singapore Telco Price Comparison: SingTel vs Starhub vs M1) The lag time was significantly reduced to only 3 weeks. Unless Samsung is able to achieve the kind of supply chain that only Apple has been able to master, I think the Galaxy S4 will only make its debut in Singapore some time end of March or first week of April.
Samsung Galaxy S4 Release Event To Stream Live At Times Square.
According to Computer World Singapore,
Samsung's imminent Galaxy S4 smartphone will launch in six different models
:
It what would be a very Apple-style launch, SamMobile has reported that the Samsung Galaxy S4 will launch in black and white colour options and three different storage capacities - 16GB, 32GB and 64GB. Although large storage options will be available, the Galaxy S4 will supposedly have a microSD card slot for adding more.
The site is also reporting that the Samsung wants to put out one Galaxy S4 model which supports 4G LTE and 3G mobile networks, which makes sense.