Sky diving at sea, a diamond shape observation capsule craned 300 feet above the ocean, The largest indoor active space at sea and virtual balcony staterooms. Royal Caribbean International's new Quantum Class cruise ships will feature many firsts at sea and raise the bar again for cruise ship design. The first of the Quantum-class ships, Quantum Of Seas, is expected to enter service in 2014 Winter cruise season and home port Cape Liberty Cruise Port in New Jersey. This "floating resort" is scheduled to serve 7 to 12 night itineraries in Winter 214 cruise season. The second Quantum-class ship, Anthem of the Seas, is expected to be delivered in Spring 2015.
"This new generation of ships gave us an opportunity to make another leap in vessel design. Innovation has always been part of our DNA and we have taken advantage of all that creativity to design Quantum cruising," stated Richard D. Fain, chairman & CEO, Royal Caribbean Cruises, Ltd. "The unique features on Quantum will boggle our guests' minds, but the real strength of the design is how our people have integrated all these diverse components to create a comfortable and exciting experience."
Here are some of the new and innovative features of Quantum Class ships recently announced by Royal Caribbean International.
RipCord by iFly will be the first skydiving experience at sea which will allow everyone from first-time flyers to seasoned skydivers to enjoy the sheer thrill and exhilaration of skydiving in a safe, controlled, and simulated environment.
NorthStar is an observation tower which uses a jewel-shaped, glass-walled capsule on the end of a long mechanical arm. North Star will lift a group of guests up and over the edge of the shi reaching 300 feet above sea level. Royal Caribbean plans NorthStar to be complimentary except for private trips, sunrise and sunset.
Two70° is a multi-level great room with a 270-degree panoramic sea views through vast, floor-to-ceiling glass walls spanning almost three decks at the stern of the ship. By the day, Two70° will provide a modern and comfortable living room space for guests to sit back and relax. As the sun sets and the lights go down, the dazzling space gradually reveals its evening persona, delighting guests with spectacular, mysterious and unexpected entertainment at night.
SeaPlex will be the largest indoor active space at sea with thrilling new features. Delivering more first at sea experiences, guests can experience a circus school with flying trapeze, or play basketball on a full-size regulation basketball court. By night, the first-ever bumper car and roller skating offerings deliver fun and excitement. Or, guests can dance to music orchestrated from a floating DJ booth which hovers above the activity below.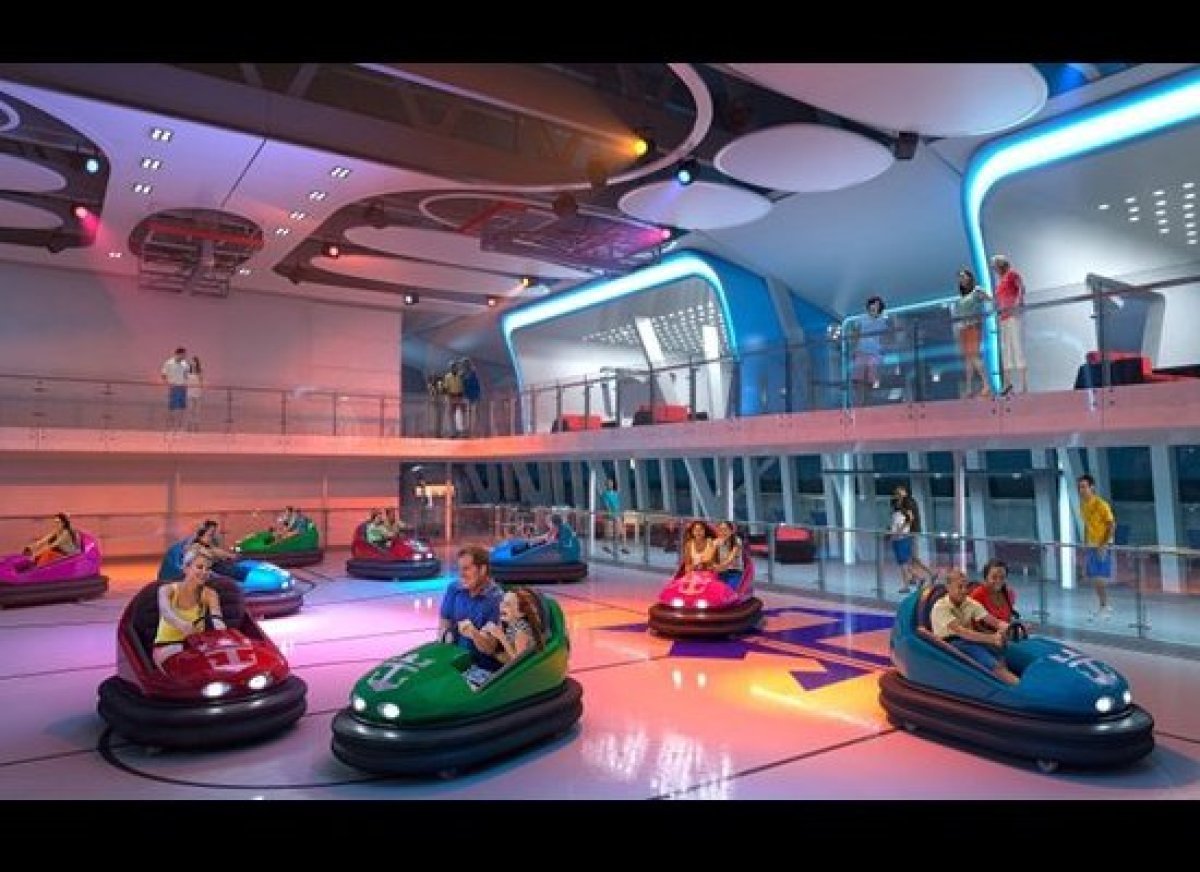 SeaPlex Bumper cars