Apple's new iPhone, iPhone 5S, is announced. iPhone 5S is equipped with A7 Processor which, according to Apple. provides desktop level performance. It also has a 4-inch display with a resolution of 1,136 x 640 pixels, a 8-megapixel rear camera and dual LED. iPhone 5S comes in 3 colors: black, white and gray.
Release date? Both iPhone 5S and iPhone 5C, a low cost iPhone model announced with iPhone 5S, are expected to be released on September 20 2013. The iPhone is usually made available to the public in major markets including US, Canada, France, Japan, Hong Kong, UK, and Singapore, around a week after the official announcement[1]:
If one connects the dots, Nikkei, the Japanese business publication had earlier suggested that Apple would release the iPhone 5S and the low cost iPhone or iPhone 5C on September 20 in Japan, indicating that the first wave of the new iPhone's release would commence on the same day. Greece-based website, Techmaniacs had also confirmed that the iPhone 5S and the iPhone 5C would launch on September 20.
The iPhone 5C with 16 gigabytes of memory will start at $99 with a two-year US carrier contract and $549 without a contract -- $100 less than previous iPhone base models.
The top-line iPhone 5S, which starts at $199 with a contract for US buyers and $649 without one, "is the most forward thinking phone we have ever created," said Apple vice president Phil Schiller.
Singtel, M1 and StarHub has announced that they are accepting registrations of interest for the new iPhone 5S and 5C.
Interested customers can register their interest for iPhone 5S and iPhone 5C online on SingTel, StarHub or M1 sites today. Starhub customers can pre-order the new iPhones on Friday.
The telcos did not release contract prices of iPhone 5S and iPhone 5C yet.
Pricing & Availability (From Apple Press Release)
iPhone 5s
comes in gold, silver or space gray, and will be available in the US for a suggested retail price of $199 (US) for the 16GB model and $299 (US) for the 32GB model and $399 (US) for the 64GB model.⁵ iPhone 5s will be available from the Apple Online Store (www.apple.com), Apple's retail stores, and through AT&T, Sprint, T-Mobile, Verizon Wireless and select Apple Authorized Resellers. iPhone 5s cases will be available in beige, black, blue, brown, yellow and (RED) for a suggested retail price of $39 (US) through the Apple Online Store (www.apple.com), Apple's retail stores and select Authorized Apple Resellers. iPhone 5s will be available in the US, Australia, Canada, China, France, Germany, Hong Kong, Japan, Puerto Rico, Singapore and the UK on Friday, September 20. A new iPhone 4S 8GB model will also be available for free.⁵ iOS 7 will be available as a free software update starting on Wednesday, September 18 for iPhone 4 and later, iPad 2 and later, iPad mini and iPod touch (fifth generation). Some features may not be available on all products.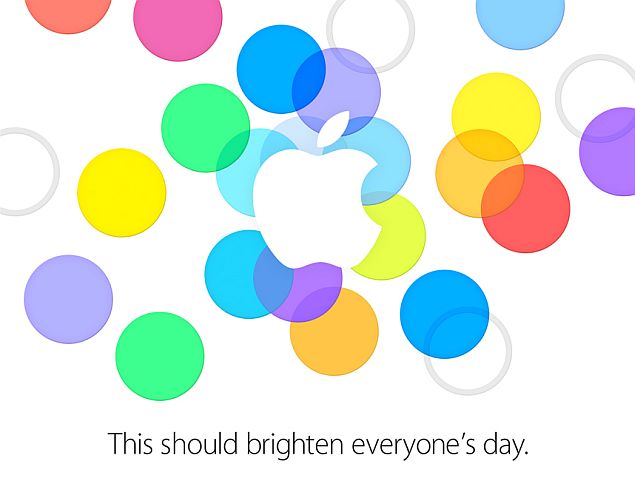 Apple's invitation for September 10 event
[1] -
iPhone 5C and iPhone 5S: More evidence suggests September 20 release date