Southeast Asia's hard rock music event of the year, the very first
Singapore Rock Festival
will be held on March 5 & 6 at Fort Canning Park according to LAMC Productions. Headliners of the festival are hard and heavy heavyweights ROB ZOMBIE and KORN and acclaimed hard rock bands FIVE FINGER DEATH PUNCH and BLACK VEIL BRIDES will be there also..Rock juggernauts ALTER BRIDGE headlines the second night on Thursday March 6, 2014 with support coming from NEWSTED (led by former Metallica bassist Jason Newsted)!
A music artist and auteur filmmaker with shrewd insight and unlimited vision, ROB ZOMBIE has continuously challenged audiences as he stretches the boundaries of film, music and publishing. The seven-time Grammy®-nominated recording artist recently released his fifth solo album, Venomous Rat Regeneration Vendor, and includes the first single, "Dead City Radio and the New Gods of Super Town," along with such tracks as "Ging Gang Gong De Do Gong De Laga Raga," "Lucifer Rising," "Rock And Roll (In A Black Hole)" and a heavy-duty cover of Grand Funk Railroad's "We're an American Band."
As a musician, ROB ZOMBIE has sold over fifteen million albums worldwide to date. His last studio album was the long-awaited Hellbilly Deluxe 2. The album came a decade after its predecessor, Hellbilly Deluxe, the album that established Zombie as a solo artist after the breakup of multi-platinum group White Zombie. That triple-platinum album also yielded a string of successful radio singles, namely "Dragula" "Superbeast" and "Living Dead Girl," which dominated the airwaves.
In addition to working on his films, ROB ZOMBIE also dominated the touring world together with his band of maniacs – John 5/guitar, Piggy D/bass and drummer Ginger Fish, blowing away audiences on the road with Megadeth, then with Marilyn Manson for the "Twins of Evil Tour." When it comes to any artistic feat or endeavor, leave it to Rob Zombie to accomplish what appears on paper to be nearly impossible.
The members of KORN built an immortal bond back in 1993 the first time that Jonathan Davis, James "Munky" Shaffer, Reginald "Fieldy" Arvizu, and Brian "Head" Welch decided to make music as a unit. They shed blood, sweat, and tears in the studio and on stage, fashioning an undeniable, unsettling, and unique sound that would permanently alter the course of rock music. After six seminal releases, two Grammy Award wins, countless sold out shows, and eventually selling 35 million albums worldwide, Head left the group in 2004 to face down the demons of addiction on his own. KORN soldiered on, permanently adding drummer Ray Luzier to the fold in 2007 and releasing four more epic full-length releases, most recently 2011's groundbreaking dubstep-metal hybrid The Path of Totality. In 2012, a triumphant and tear-filled reunion happened on stage as the group headlined the Carolina Rebellion festival with Head reprising his legendary part on "Blind." The initial bond came back into focus, but it was time to change the game again. It was time for their eleventh studio album The Paradigm Shift. Recorded with producer Don Gilmore [Linkin Park], it melds the group's ever-present spirit of innovation with their signature metallic catharsis, paving the way for the future yet again.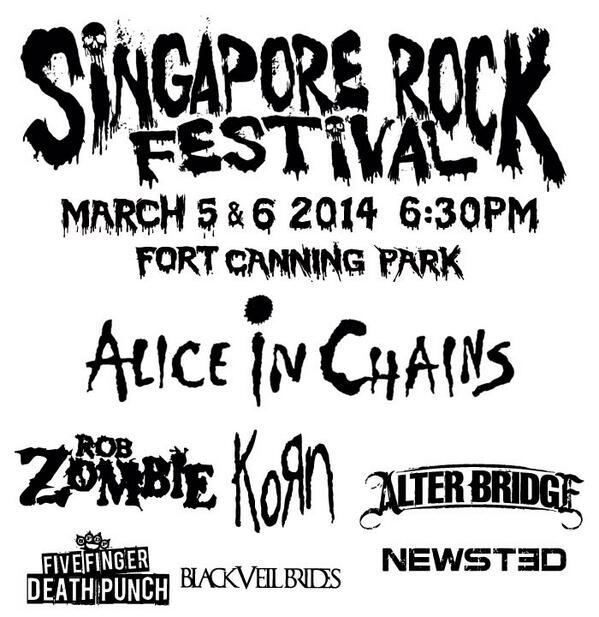 Singapore Rock Festival is on March 5 & 6 at Fort Canning Park
ALTER BRIDGE was formed in 2004 when three ex-members of Creed joined forces with former Mayfield Four front man & Slash collaborator Myles Kennedy.
The band's gold-certified debut album "One Day Remains" spawned three singles as well as the track "Metalingus " which was adopted by WWE superstar Edge as his theme song. A second album "Blackbird " was released in 2007 to critical acclaim, resulting in 2 hit singles "Rise Today" and "Watch Over You", the latter of which debuting at #10 on the VH1 top 20 music video countdown.
Following up to their success, their third studio release "AB III " was released in 2009 to many positive reviews and spawned "Isolation " their most successful single to date. in 2010, AB III reached #1 rock album on iTunes in the United States.
Armed with their most recent album "Fortress " released in August 2013, ALTER BRIDGE embarked on a headline UK tour in October, and will be be playing in Australia's Soundwave Festival 2014. Alter Bridge will also release a box set titled Alter Bridge X to commemorate the band's 10th anniversary.
After his departure from Metallica in 2001, former bassist JASON NEWSTED has embarked on a number of projects & collaborations. "Echobrain" was the first of such projects, which also resulted in Jason Newsted's departure from Metallica after over 14 years with the band due to tensions between the band members - namely James Hetfield was quoted as saying "When someone does a side project, it takes away the strength of Metallica ".
Soon after recording and funding 3 albums with Echobrain, JASON NEWSTED then joined Canadian thrash metal band Voivod for a period of time as their studio bassist in 2002. Jason Newsted joined Ozzy Osbourne's band in Ozzfest 2003, replacing Robert Trujillo (who replaced him in Metallica).
JASON NEWSTED was present and played alongside with Metallica in the band's induction ceremony to the Rock and Roll Hall of Fame in April 2009, as he had co-written three songs with them. It was his first performance with the band in over a decade, and both Robert Trujillo and himself played onstage at the same time.
In December 2012, JASON NEWSTED formed the band NEWSTED as his new project, and their debut album "Heavy Metal Music" was released in August 2013 to generally positive reviews.
FIVE FINGER DEATH PUNCH has released three consecutive RIAA gold certified albums for sales exceeding 500,000 copies. The success of The Way of The Fist (2007), War Is The Answer (2009) and American Capitalist (2011), which debuted at number 3 on the Billboard charts in October, 2011, exhibit the band as one of the few in the rock genre to consistently see significant sales both digitally and physically. The band's ten consecutive Top 10 radio hits - including 2012′s #1 hit "Coming Down – have spawned cumulative single sales of over 4.2 million. Going back to "The Bleeding" in the spring of 2008, FIVE FINGER DEATH PUNCH has consistently been one of the most heavily played bands at rock radio.
Formed in 2006, BLACK VEIL BRIDES originally came together in Cincinnati, Ohio. Primarily the brainchild of vocalist Andy Six, the band combines cathartic metalcore/screamo with a dark, gothic image to set it apart from its contemporaries. In their first couple of years together, BLACK VEIL BRIDES went through a number of lineup changes while they gained attention from labels with two EPs, releasing Sex & Hollywood in 2007 and Never Give In in 2008. The band eventually relocated to Los Angeles, settling on a lineup and beginning work on its full-length debut.
Bringing together guitarist Jinxx (formerly of the Dreaming), guitarist Jake Pitts, bassist Ashley Purdy, and drummer Sandra Alvarenga, the band began to refine its image and sound, touring with groups like Eyes Set to Kill and From First to Last. In 2010 they released their debut, We Stitch These Wounds, on Standby Records. Later that year, Alvarenga left the band and was replaced by drummer Christian "CC" Coma, who made his debut with the band on 2011's Set the World on Fire, which was released on Lava Records. For their third release, Black Veil Brides channeled their gothic image to create the conceptual punk rock opera Wretched and Divine: The Story of the Wild Ones, which was released in early 2013.
Don't miss one of the most hard hitting rock lineups ever in Singapore with ROB ZOMBIE, KORN, ALTER BRIDGE, NEWSTED, FIVE FINGER DEATH PUNCH & BLACK VEIL BRIDES!