The rumours about the death of
Fast And Furious
( 玩命關頭) actor
Paul Walker
(保羅沃克) has been circulating in the internet for the last few hours. Unfortunately, an hour ago
his official Facebook page has confirmed that the 40 years old actor has died in a car crash today
:
It is with a truly heavy heart that we must confirm that Paul Walker passed away today in a tragic car accident while attending a charity event for his organization Reach Out Worldwide. He was a passenger in a friend's car, in which both lost their lives. We appreciate your patience as we too are stunned and saddened beyond belief by this news. Thank you for keeping his family and friends in your prayers during this very difficult time. We will do our best to keep you apprised on where to send condolences.
Paul Walker was reportedly
in the passanger seat of a red
Porsche Carrera GT
when the driver has lost control and slammed the car into a tree. Both were killed in the accident:
On November 30, 2013 at roughly 3:30 pm, Paul Walker and a companion were driving in Santa Clarita, California when his porsche swung out of control and crashed into a tree. The car immediately exploded and burst into flames, killing both Walker, who was the passenger, and the driver.
In twitter, a photo, claimed to be of the crashed car was released with the description : "
Very dramatic photo from scene of crash in which actor @RealPaulWalker died". According to his friends, the car belonged to Paul Walker but he was in the passanger seat.
Paul was attending a charity event for his organization Reach Out Worldwide
:
"Sources close to Paul tell us he was in Santa Clarita for a car show to support the Philippines typhoon relief effort, and had been taking friends out for rides in his new
Porsche Carrera GT
.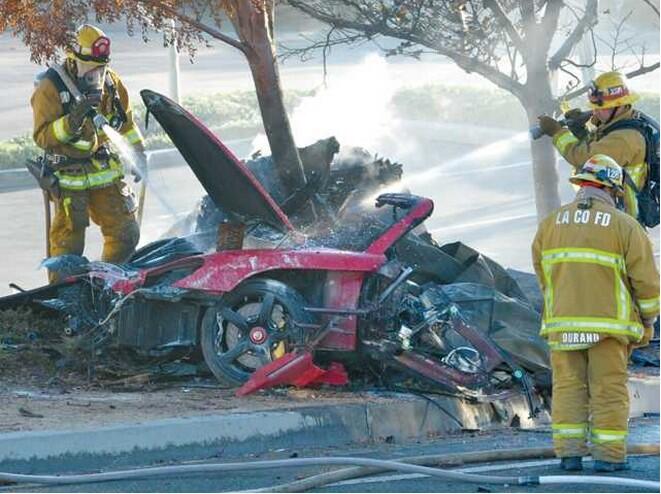 TMS has also released a photo of the accident scene:
Paul Walker accident scene - Photo : TMZ