The 344-room
Songbei Shangri-La
opened today in the fabled city of ice –
Harbin
, marking Shangri-La's second debut in this north eastern city 18 years after the group opened the Shangri-La Hotel, Harbin in 1999. The gleaming new property anchors Shangri-La in the heart of Songbei's business district and in a historic city that has witnessed the dawn of the Jin (1115-1234) and Qing (1644-1911) Dynasties, as well as cultural influences from neighbouring Russia.
Located on the edge of the Songhua River's north bank and a convenient five-minute drive from the city's internationally renowned ice festival at the Ice & Snow World, Songbei Shangri-La, Harbin is in a neighbourhood that includes local attractions such as the Sun Island Garden, Siberian Tiger Park and Harbin Great Theatre. Just 40 minutes and 30 minutes away are the international airport and Harbin West Railway Station, respectively.
"We are proud to have been part of Harbin's development as a global destination and to have welcomed travellers with Shangri-La's heart-warming hospitality for nearly two decades," said Tyson Wang, Songbei Shangri-La, Harbin's General Manager. "With a second property, we look forward to unveiling new lifestyle experiences and inviting the community and international visitors to enjoy our blend of tradition and modernity in Harbin."
To celebrate the hotel's opening, an introductory offer priced from RMB 1,350 per night is available until 20 February 2017 and includes daily breakfast buffet. The supplementary breakfast charge for a second guest sharing the same room is RMB 50 and double GC Award Points for Shangri-La's Golden Circle members. For reservations, call (86 451) 5862 9999 or email: reservations.shas@shangri-la.com. The room rate is subject to a 10 per cent service charge and six per cent government value-added tax.
Songbei Shangri-La, Harbin features guest rooms and suites ranging from 42 to 175 square metres, as well as uninterrupted views of the city and river through floor-to-ceiling windows. Appointed in a contemporary style with tranquil hues and local art pieces, each living space integrates mood lighting and free-Wi-Fi with a spacious marble bathroom and walk-in wardrobe. The hotel also provides 33 executive serviced apartments for longer-term guests.
The three largest suites – the Lilac, Songbei and Shangri-La Suites – elevate the concept of luxury with stylish interiors for family or business entertaining on the top floors of the hotel. Adding to the exclusivity is the Horizon Club Lounge, where Horizon Club and suite guests can enjoy extra privileges including express check-in and check-out, complimentary breakfast buffet, all-day refreshments and evening cocktails, and concierge service.
Shang Kitchen, the hotel's main restaurant, celebrates Chinese cuisine with Peking roast duck, clay pot dishes and northeast regional specialties in a setting that boldly blends splashes of lilac and emerald green with lattice screens. Private dining rooms are available for intimate occasions.
Revolving around interactive theatre kitchens, Café Song is a lively dining hub accented by a mix of polished wood floors and coloured floor tiles. Offerings from the international buffet and blackboard menus represent the restaurant's relaxed vibe that is extended to its outdoor terrace.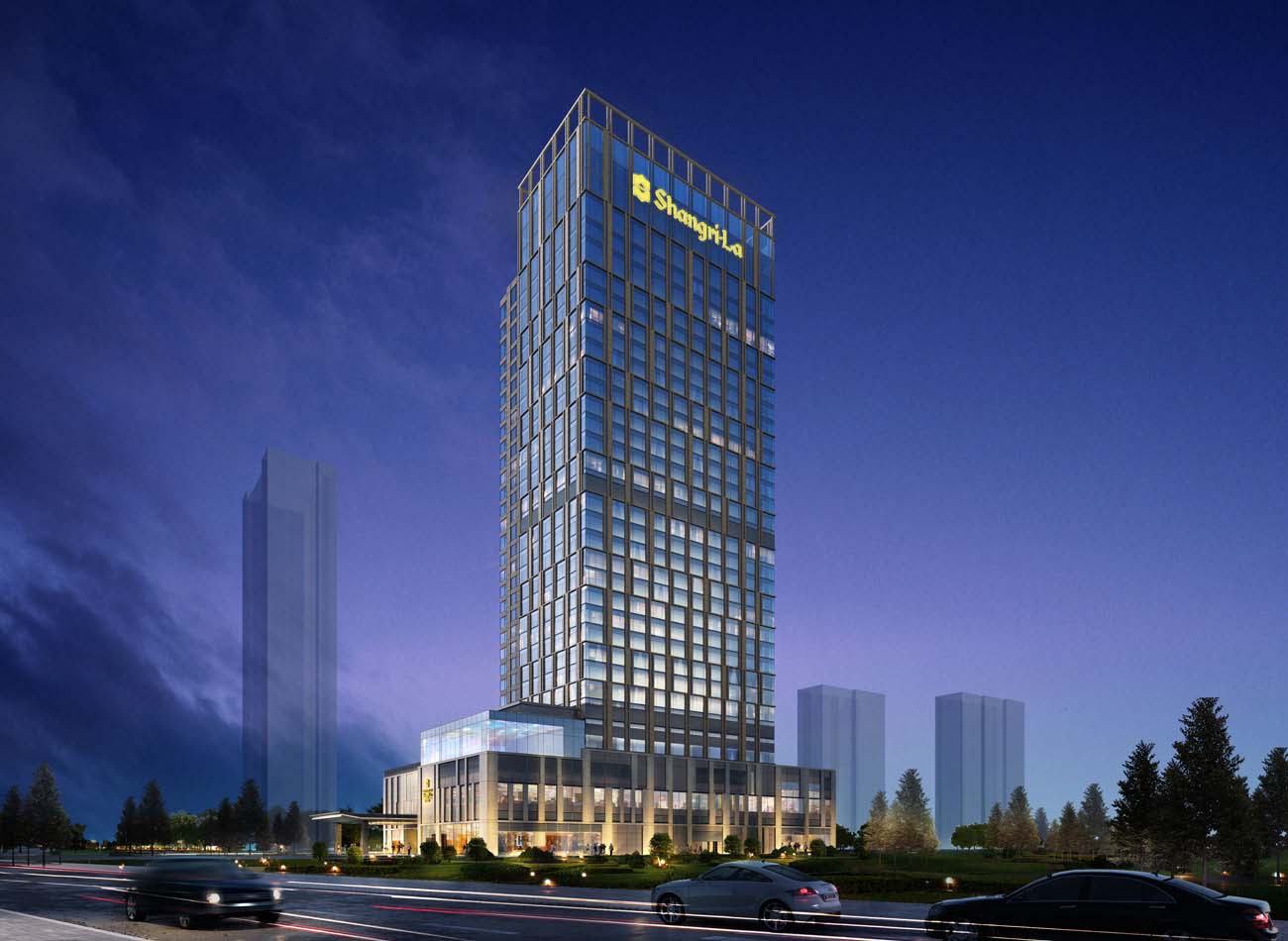 Songbei Shangri-La Harbin
Beneath an exposed ceiling and industrial-style interior is De Drunk'n Pig – the hotel's specialty bar that serves an array of local and international beer, and pork dishes to share. Its youthful take on casual chic includes distressed leather chairs, salvaged objects, drop lights and wall graffiti, making this the place to unwind after hours with the resident DJ.
The Lobby Lounge provides a gathering place for elegant afternoon high tea, light bites or all-day refreshments.
Guests searching for a more relaxed getaway can unwind at the hotel's Health Club where a fully equipped gym, indoor swimming pool, Jacuzzi, sauna and steam rooms are available. Pampering treatments, drawing on traditional Chinese philosophy, at CHI, The Spa's private suites provide a therapeutic escape with skilled therapists.
Catering to prestigious conferences and banquets are the hotel's extensive meeting facilities including Songbei's largest pillar-less ballroom, which covers 1,616 square metres and seats up to 1,000 guests for receptions. An additional ballroom at 408 square metres and two function rooms are equipped with state-of-the-art technology.
Hong Kong-based Shangri-La International Hotel Management Limited, one of the world's premier hotel management companies, currently operates over 95 hotels in 22 countries and 73 destinations under the Shangri-La, Kerry, Hotel Jen and Traders brands. Prominently positioned in Asia, the group has established its brand hallmark of "hospitality from the heart" over four decades in Asia Pacific, the Middle East, Europe, North America and the Indian Ocean. The group has a substantial development pipeline with upcoming projects in mainland China, Cambodia, Hong Kong, Indonesia, Malaysia, Myanmar, Saudi Arabia and Sri Lanka. For more information, please visit
www.shangri-la.com
.