If you are planning to travel from KL to Singapore, you will probably either fly or take a bus. Most takes a bus which is quite convenient. It will save you money. Most buses that travel from KL to Singapore are owned and operated by reputable companies. The buses are roomy and comfortable. Many of the buses have extra amenities, including WI-FI, desks to work from, and movies to view. This can be extremely beneficial, as the trip runs about five hours or a bit more.
If you want to buy bus ticket from Kuala Lumpur to Singapore, you do not need to book though a travel agent. You can buy bus tickets online in Malaysia. There are some online portals representing many companies such as
Malaysiabus.com
. Prices for this bus trip do vary, depending on the quality of the bus chosen and its features. Buses that cater to business people and the double-deckers do charge more, but very often it is worth it. The cost of a ticket can range from around $11 to $80. It is advised to purchase tickets a day in advance, and even farther ahead if traveling on holidays.
There are several places to take a bus from KL to Singapore. The Pudu Sentral Bus Terminal and the Terminal Bersepadu Selatan are the primary two locations. The Pudu Sentral Bus Terminal is near Chinatown (next to
Swiss Garden Hotel
), and the latter is the newest super terminal that opened in 2011. When arriving in Singapore, a fleet of taxis will be waiting.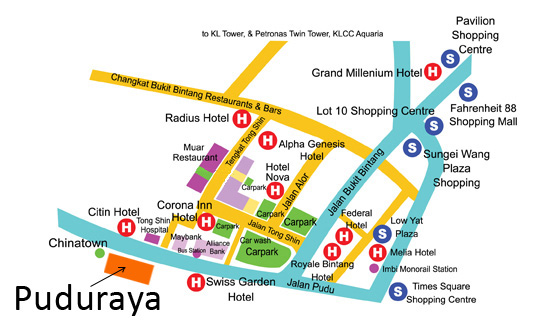 The Pudu Sentral Bus Terminal map in Kuala Lumpur
Always remember that entering a new country requires being patient and following some rules. The rules and expectations for each country do vary, and some require just being courteous. For example, it is forbidden in Singapore to chew gum or wear hats and sunglasses in the immigration line. Make sure all paperwork is intact, and always expect luggage to be checked for smuggled goods. Remember that all tobacco and alcohol is subject to taxation.